Creative Solutions – Whitefish First Nation Project Profile
usedmodular June 1, 2017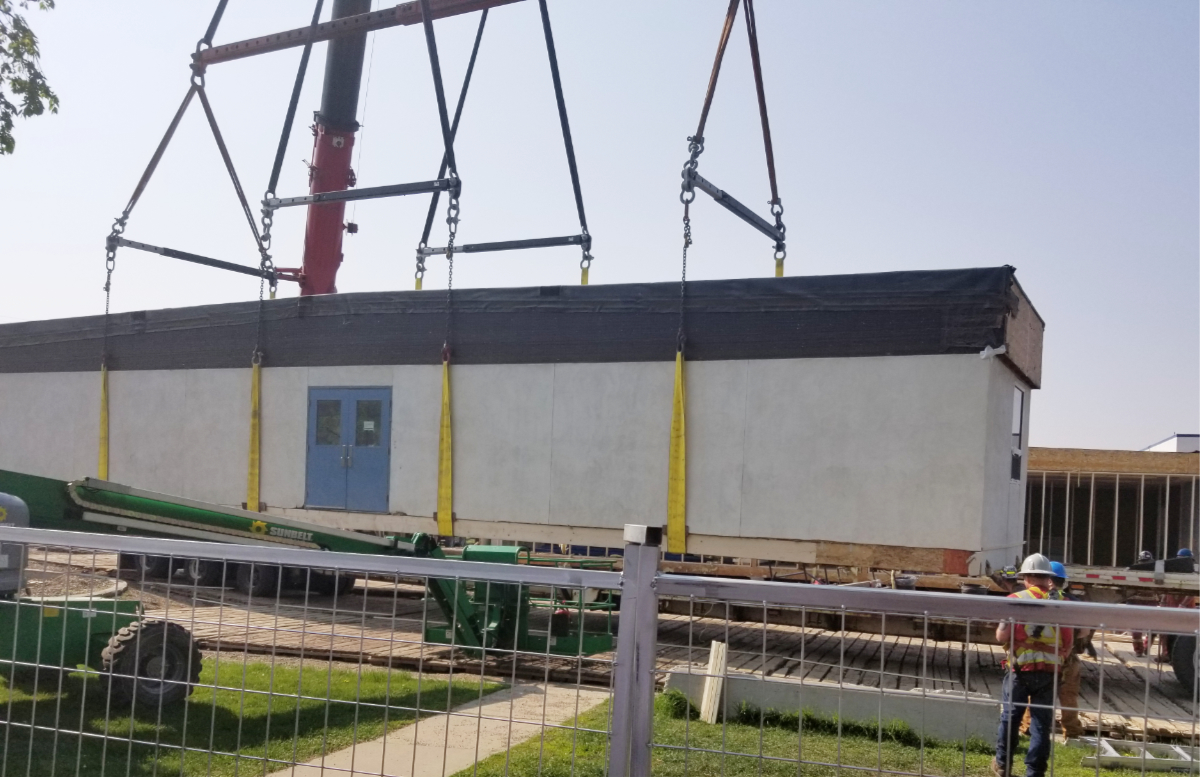 It was great to be able to pop down to West Edmonton Christian School yesterday to see the progress on demobilization of a 16 unit modular classroom.
When Alta-Fab Structures Ltd; a preeminent Modular Solutions builder; approached us with the opportunity to "sell" this 30 year old asset in order to make room for a brand new school we were excited to jump on board. The challenge that the School faced was the cost of disposal of the asset of over $130,000 dollars, should we not find a successful buyer.
We were faced with a very tight deadline and subsequent challenges  finding that unique client that would attain such a large asset and be able to retrofit to their specific needs.
We met with the Seller and Ryan Dalke of Rydal Construction, who was introduced to us by the modular supplier. The assessment of this 30 year old asset was expertly prepared by Rydal and it was found to be very sound structure.
With that in mind we formed a marketing plan to give away the asset for FREE and we started a national marketing campaign to give away this "free" asset.
Of course this presented the "What If" challenge, What if the client that purchased withdrew their interest after the sale? How do we protect our client from spending to dispose of the asset? We decided to implement a non refundable performance bond deposit should the purchaser pull out of the deal.
With that in mind, we advertised over multiple Social Media platforms including LinkedIn, Kijiji and others as well as reached out to our client base.
The response was AWESOME! We received over 25 responses within the first 3 days ! Many of those who did not properly read the ad regarding the non refundable performance bond, dropped off quickly and just three qualified potential purchasers remained.
Fortunately one of those bidders was within the 2.5 hours of Edmonton that was recommended and we met with many members of the Whitefish First Nation at the site the following week. Rydal Construction was kind enough to volunteer their crew to walk the group through each and every step of the process as to exactly what would be required and the costs they could expect..
We were thankful that the Whitefish First Nation Council approved the acquisition of this asset as it served both seller and buyer very well!
Over the next year or so we will be following the progress of the Whitefish First Nation's project as it becomes a great new community space that will be a gathering place for their community members; young and young at heart for many years to come.
Hay-Hay ᐦᐊᔾᐦᐊᔾ
(thank you) 
To new beginnings…