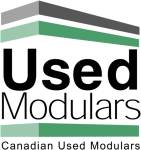 Used Modulars is the first of it's kind in Canada
Welcome to Used Modulars Canada and thank you for taking the time to visit our site. This is the first classified ad's site dedicated to used modulars across Canada. We are just getting started and are focused on building up new users every day.
It is our goal that this will be THE place to list, buy and sell Industrial Modular Units online.
We will be dedicated to using this blog to keep you informed on the latest developments of the site as well as trends within the marketplace. Welcome to the Used Modulars Community!
The idea behind this website is to create a classified ads style marketplace exclusively for used modulars available for rent or sale in Canada. There are numerous sites online for new modulars, both by the Manufacturer and Dealers, but the purpose of this site is to dedicate a website exclusively to build a market for used modulars and allow individuals and Companies to promote their inventory.
Feel free to email us ( info (at) usedmodulars.ca) with any questions or comments.
The Used Modular Canada Team
8346 total views, 3 today