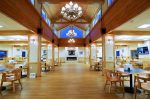 Used Modulars Canada Ltd is proud to offer for sale….Cheecham Lodge……for over 3 decades this 382 room facility has served the hard working crews of the Alberta Oil, Gas and related sector.
Situated on 21.99 acres of prime highway frontage on 881 this Lodge is ideally located in close proximity to many operating oil and gas projects such as Conoco Surmont, Nexen Long Lake, and the proposed CN Rail Puck plant.
This Lodge was renovated and retrofitted in 2015 with extensive upgrades and additions, including a well appointed Kitchen, Diner and recreation facility……. This state of the art core facility includes all modern gym equipment, an onsite theatre, spacious boardroom and is complemented with a room equipped specifically for gaming, and wide open recreation area. Check out the sales video here and contact us for more information.
2311 total views, 2 today